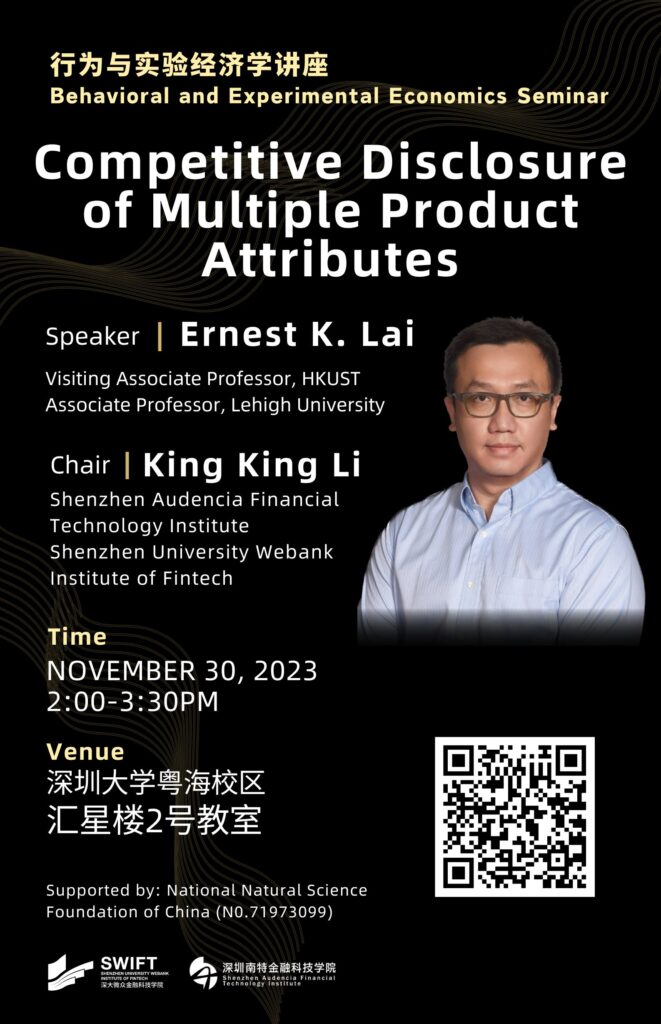 Abstract:
We analyze a duopolistic model of quality disclosure in which product differentiation can be either horizontal or vertical under two vertically differentiated product attributes. Disclosure is fully revealing in the absence of disclosure cost. When disclosure is costly, firms partially disclose. We apply the familiar economic properties of absolute and comparative advantages in a novel way to characterize partial disclosure under the multiple product attributes. The type of product differentiation and intensity of competition interact with absolute and comparative attribute advantages in determining the equilibrium non-disclosure sets of the firms. When consumers fall short of forming rational expectation after non-disclosure, firms may partially disclose even without disclosure cost, and the same properties continue to dictate firms' disclosure behavior in the boundedly rational paradigm.
Bio.:
Professor Lai joined Lehigh University in 2009 after obtaining his doctorate from the University of Pittsburgh. A native of Hong Kong, he obtained his undergraduate and master's degrees at The Hong Kong University of Science and Technology and The University of Hong Kong. His research focuses on using the tools of game theory and laboratory experiments to study strategic communication between parties with conflicting interests. He teaches microeconomics and game theory at the undergraduate and graduate levels.
Abstract:
Individualism and collectivism are treated as bargaining norms in a new-classical growth model where capital can be more efficiently formed by bilateral cooperation than by autarky. For bilateral cooperation, there is a holdup problem because each side has to place some input before cooperation starts. When the relationship of the pre-cooperation inputs of two sides is substitutional, individualism achieves the best allocation while collectivism does not. When this relationship is complementary, collectivism achieves the best allocation while individualism does not.
Bio.:
香港科技大学副教授, 在加入香港科大前为美国康内尔大学经济系助理教授。研究领域为宏观经济学、货币经济学。研究发表于经济学顶级期刊Econometrica、Journal of Monetary Economics、Journal of Economic Theory、International Economic Review等。
摘要:近年来,人工智能技术特别是以ChatGPT为代表的大语言模型人工智能技术迅速发展。本研究基于2018年1月至2023年4月间的102万条来自智联招聘平台的新增工作职位数据,运用文本分析技术,基于具体工作内容、任务和职业等信息,构建了大语言模型人工智能技术暴露指数,刻画了中国劳动力市场对人工智能技术的反应,分析了企业对新技术的适应性调整,并通过国际比较评估了他们在应对新技术上的表现。本文发现:过去五年,中国劳动力市场上新增职位的大语言模型人工智能技术暴露度呈现降低趋势,并在2022年之后加速下降;受冲击较大的主要是白领职业,如财会、翻译、银行业务、销售及软件互联网从业者等;尽管2021年企业对大语言模型人工智能技术的需求上升,但近两年出现下滑趋势,显示出对新技术发展的滞后反应。与其他国家相比,中国劳动力市场对新技术的适应性仍有待加强。本文建议加大对大语言模型人工智能技术的研发投入,降低应用门槛,鼓励企业和劳动者更加主动地使用新技术。
Bio: 张丹丹,北京大学国家发展研究院经济学(长聘)副教授、正研究员、博士生导师、北大博雅青年学者、教育部长江青年学者。现任北京大学国家发展研究院助理院长,主管科研工作。张丹丹毕业于澳大利亚国立大学,获经济学博士学位,研究领域为劳动经济学、应用计量经济学和实验经济学,特别关注转型期弱势群体的福利问题,以及社会变革、制度文化冲击对人行为的影响。其学术成果发表在Economic Journal,Nature:Human Behaviour,Journal of Economic Behavior and Organization,Review of Income and wealth,《经济研究》,《经济学(季刊)》等国内外经济学或一般科学类顶级期刊。近几年,她主持多项国家自然科学基金面上项目、国家社会科学基金重点项目和国家高端智库重点研究课题;曾多次作为专家组成员参与人力资源与社会保障部、国家统计局和国家疾控中心组织的专题座谈和讨论,对疫情防控政策和就业问题提供了政策建议;其研究成果形成的资政报告被中共中央办公厅、国务院和相关部委采纳。